Nanobubble workhorse
The turbiti nanobubble generator is a first-class workhorse ultrafine bubble generator. It can be placed in difficult environments. The turbiti has no moving parts, so maintenance is minimal. The turbiti mixer comes in a stainless-steel box with standard durable male connectors for the water connections. The gas connection is a standard push to connect fitting. The gas connection is protected with a high-quality one-way valve, which protects your oxygen concentrator and avoids water in your gas hose. The turbiti can handle water with particles up to 2 mm.
Turbiti enhanced static mixer technology
The static mixer has its origin from mixing two liquids, the first patent for a static mixer was filed in 1965. Instead of mixing two liquids, there is also the possibility of mixing a liquid and a gas. The benefits of the static mixers is that they can treat large volumes of water at once. They are not sensitive to clogging. The acniti technology is based on this principle. Rather than a normal static mixer, acniti has implemented their proprietary swirl flow technology. The swirl flow technology beats up the water and gas, and due to the available forces in the mixer, nanobubbles are created. In the schematic on the left, you can get a visualization of how the technology works. The turbiti has an enhanced dissolved aeration performance, dissolving gasses like oxygen efficient and in large quantities in the water.
One of the main benefits of this mixer is the low head required for nanobubble generation. A low head means that much less energy is required to be compared to the high head nanobubble generators which often require 5 times more pressure.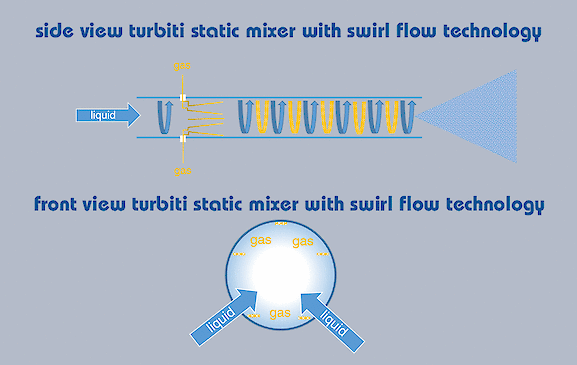 Nanobubble applications
This unit is suitable for water treatment applications, healthy drink water treatment for livestock i.e. chicken, cattle, pigs and poultry. A large industry using the nanobubble aeration mixers is the horticulture greenhouse production cultivating products such as tomatoes, bell peppers, carnation, roses, lettuce and strawberries. Apart from sweet water applications, the unit is also suitable for saltwater applications such as shrimp and salmon cultivation. We recommend using this product in combination with our industrial oxygen concentrator. Investing in both the oxygen concentrator and the turbiti nanobubble mixer, gives you peace of mind and many years of trouble-free ultrafine bubble generation.
Dealers and partners
The turbiti OEM series gives dealers and partners the opportunity to implement the turbiti into their own equipment and sell nanobubbles generator equipment under their own brand name. This product is only for dealers and partner of acniti, that have a license agreement and commit to buy certain quantities. When you are interested in becoming an Acniti partner, contact us for your geographic location and market. Customers that want to buy direct from acniti, please have a look at our other turbiti products: