Product description
Medium inlet filter series
The RF200 ~ RF400 self-cleaning pump intake filters provide protection against blockage for surface mounted pumps and other connected equipment. These are stainless steel dirty water suction strainers with capacities between 220 to 1000 liters / minute (14~60 m3per hour), capable of filtering up to 50 microns.
The RF A filter can be fitted with replaceable nylon mesh inserts; on average nylon mesh inserts need replacing every 5000 hours continuous use for 300-micron mesh, and 1000 – 2000 hours continuous use for 60- and 115-micron mesh, although these maintenance intervals will vary according to water conditions.
The RF AS can be fitted with a fine stainless steel filter mesh and needs jet washing at similar intervals.
The RF RW and RP series are fitted with a coarse stainless steel perforated plated with 1,2,3 or 6mm holes.
These filters use a proportion of the pump's output to supply feed to an internal backwashing rotor. This supply is taken off the already filtered pump output. The twin jets of the cleaning rotor rotate at about 60 rpm in each filter, clearing the whole screen every ½ second. As the cleaning mechanism is on the filtered side of the screen debris in the water will not obstruct the mechanism. Between 16-25% of the pump output is required to supply the cleaning rotor.
The low intake velocity of the filters ensures that, when fitted with 2 mm woven stainless-steel mesh, they comply with current European regulations for Eel protection and US EPA Rule 316(b) regulations for fish protection.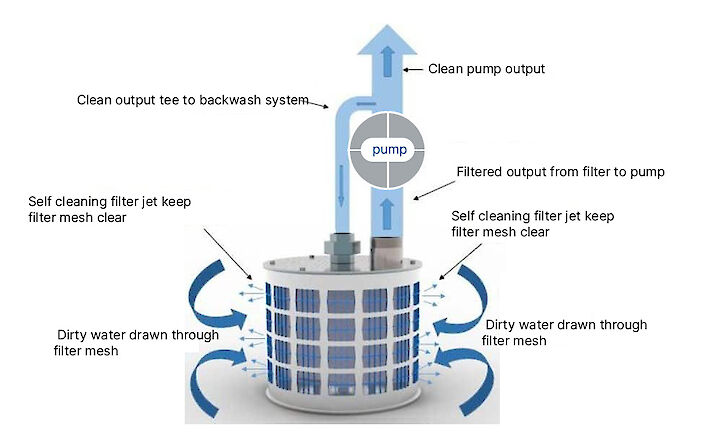 For larger capacities please consider our RF600 series for 1500 up to 4600 liters per minute. All our filters and strainers use the same patented technology, providing efficient self-cleaning backwash to keep the filter mesh clear for a range of flow rates.