Libelle FL5035 24VDC
Self-priming diaphragm pump

Max. liquid temperature: 45 °C

It can work 24 hours without interruption

Reinforce the ten hexagon socket screws on the front of the pump head every 10-15 days to prevent the pump head screws form loosening and leaking due to thermal expansion and contraction of the pump head.

The running time of AC motor is determined by the wear degree of silicon steel sheet. The service life of carbon brushes for 12V and 24V DC motors is 1500 hours.

Pump running at 205 kPa with a Turbiti 707 or 808

Max O2 saturation 325% at 17.5 degrees Celsius.
The Libelle FL5035 24VDC is equipped with a built-in overpressure valve.
This enables the pump to switch on automatically as soon as there is water discharge in the system and to stop as soon as the water discharge stops.
Applications
Ozone nanobubbles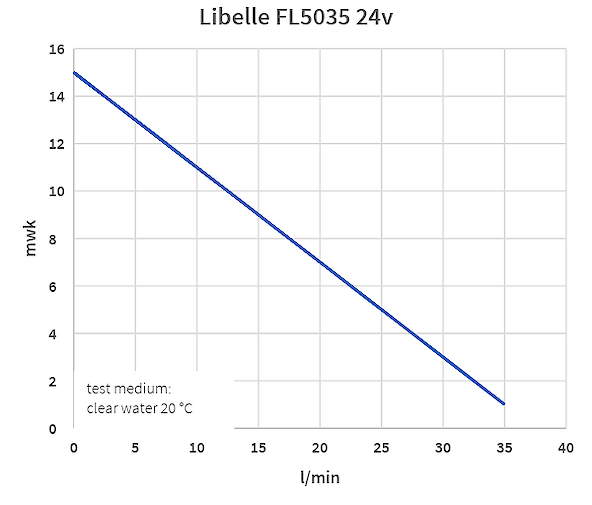 Specifications
| # | Liquid specifications | 50 Hz | 60 Hz | Head |
| --- | --- | --- | --- | --- |
| 1 | Maximum pump capacity liter | 35 | | |
| 2 | Maximum pump capacity Gallons | 9 | | |
| 3 | Liter per minute @ head | | | 20.5 &nbsp Meter |
| # | Electrical specifications | - | - | - |
| 4 | Electric phase ⌀ voltage | 24VDC | | |
| 5 | Amps | 8 AMPS | | |
| 6 | Power consumption | 200 WATT | | |
| 7 | Pump house material | Corrosion-resistant materials | | |
| 8 | Power cord length | 2 meter with ring connector on one end clamp connector on the other side. Meter | | |
| # | Connections | Metric | Imperial | - |
| 9 | Water inlet | RC 1" | | |
| 10 | Water outlet | RC 1" | | |
| 11 | Remarks | 19 mm hose tail included | | |
| # | Dimensions | Metric | Imperial | - |
| 12 | Dim. (w) x (d) x (h) mm | 155 x 260 x 155 | 6 x 10 x 6 | |
| 13 | Weight | 4.85 Kg | 11 lbs. | |
| 14 | Dim. (w) x (d) x (h) | 18 x 28 x 20 | 1 x 1 x 1 | |
| 15 | Shipping weight | 5.5 Kg | 12 lbs. | |
---
---