Water treatment Tsurumi 50PN2.75
水中超微細気泡ミキサーで使用するための水中ポンプ。
introduction PN
The PN-series is a submersible semi-vortex pump designed for handling wastewater and liquid carrying small solid matters. It is made of resin and 304 stainless steel and excellent in corrosion-resistance. The semi-vortex pump design with moderate solids passage provides efficient performance for versatile applications. Liquid paraffin is used for the lubricating oil, which widens the application of the pump to decorative waterfalls, fishponds, aquaculture, etc.
Vortex impeller
The benefit of a vortex impeller over a channel impeller is the minimized risk of clogging. The vortex impeller creates a revolving mass of water which forms a whirlpool. A whirlpool is a funnel shaped opening is created downward from the water surface. It can be developed by water flowing out of a small opening in the bottom of a basin, a reservoir or by a pump. Impellers creating this Vortex are called vortex impellers. The benefit of a vortex impeller over a channel impeller is the minimized risk of clogging. A Vortex impeller is also a better choice when the pumped liquid has a high content of sand. The efficiency of a pump with a vortex impeller is typically lower than a pump with a channel impeller.
Installation
Installation of the 50PN 2.75 Tsurumi in the submersible turbiti nanobubble mixer. Click through the photo carouser above to see the pictures and the various steps involved.
Photo 1. Top image overview of the pump as it is supplied by your distributor.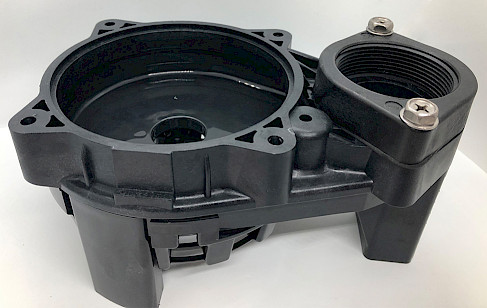 Photo 2. Remove the pump base loosen 4 screws with a star screwdriver or a 13/32" wrench alternatively a 10 mm wrench. Keep in mind that the head of the bolt is imperial.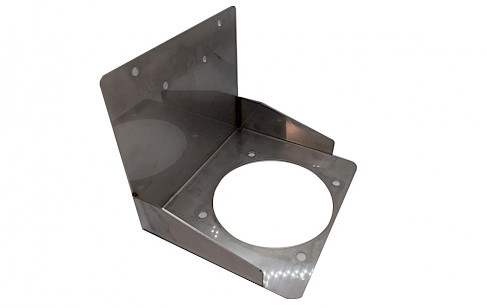 Photo 3. Mount the supplied pump frame, please check that the large rubber O-ring is kept in place between pump and aluminum frame.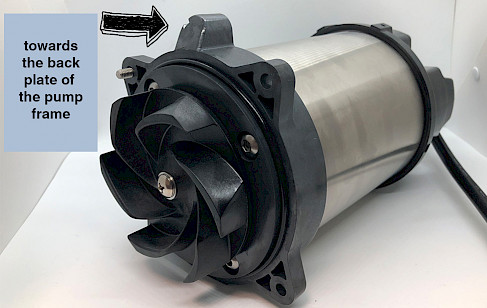 Photo 4. Mounting the pump turn it a quarter so the wire is pointing towards the back wall of the pump frame. Mounting it differently is not possible as the hook will be in the way.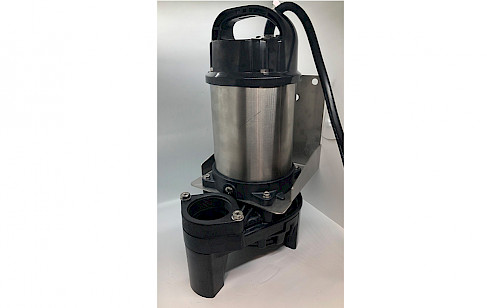 Photo 5. Overview of the final result Tsurumi 50PN 2.75 with mounting plate.
Table technical specifications
| # | 液体 規格 | 50 Hz | 60 Hz | Head |
| --- | --- | --- | --- | --- |
| 1 | 最大ポンプ容量リットル | 380 | 379 | |
| 2 | 最大ポンプ容量ガロン | 100 | 100 | |
| 3 | 1分あたりリットル | 300 | 303 | 6 &nbsp Meter |
| 4 | 1分あたりガロン | 79 | 80 | 20 &nbsp Feet |
| # | 電気 規格 | - | - | - |
| 5 | 電気相⌀電圧 | 3 Ø 200 Volt | | |
| 6 | 消費電力 | 750W | | |
| 7 | ポンプハウス材料 | Glass fiber reinforced resin, stainless steel SUS304 | | |
| 8 | 電源コードの長さ | 5または6メートル メートル | | |
| # | 接続 | メートル法 | ヤードポンド法 | - |
| 9 | 水出口 | 50 mmまたは2 " | | |
| # | サイズ | メートル法 | ヤードポンド法 | - |
| 10 | 製品サイズ (幅)x(奥)x(高) mm | 335 x 236 x 374 | 13 x 9 x 15 | |
| 11 | 重量 | 10 Kg | 22 lbs | |
| 12 | HSコード | 8413.7010 | | |
---
---